Pitch Perfect: How America SCORES New York Empowers Youth is Poetry in Motion
By Bryan Kitch
The America SCORES program, which has affiliates across the United States, is built on a platform that extends from the soccer pitch to the poetry slam. That unique combination also speaks to its origins, which walked the line between the classroom and after school.
America SCORES originated in 1994 in Washington, D.C., where founder Julie Kennedy (a public school teacher, a lover of poetry, and an athlete) created the program to address the numerous issues facing kids after school—it's often said that the period from roughly 3pm to 6pm is the most dangerous for children and young adults with no viable after-school alternatives. The results can be devastating, for individuals and whole communities. And that's why America SCORES New York's Program Director, Zach Gomes, is so passionate about what he does.
"They are both forms of expression, where one is on the page, and one is on the field," Gomes says. "The kids are working together, writing poems together, performing those poems together, and they're also playing soccer together. So, it leads to a different level of understanding between teammates."
The basic structure of the program typically sees the kids at soccer practice (or games) three times per week, with two poetry sessions in between to cover the five-day school week throughout the fall. The poetry is free-form, and collaborative, and culminates with a performance at the end of the term, where each team will get up on stage in front of their peers and recite their piece—another way in which the bonds between teammates are strengthened, and their window of experience is widened.
In the spring, the poetry sessions are replaced by community service learning, led by the students and further connecting the program with its immediate community.
"A lot of them join the program because they love soccer, and then discover something about themselves: They find that they really enjoy the writing as well."


—Zach Gomes, Program Director
Who forms the backbone of the program's core faculty? "We hire teachers to coach our teams," Gomes explains, mirroring the original program led by Kennedy. "So, the teachers are leading the poetry and the soccer—we provide them with a curriculum to help them in creating their poems and getting the ideas flowing, and we have a lot of formats for some of the younger kids to use so that they're guided in writing their poems. Everything is original—all of the poems are written by the students."
He continues: "Throughout the day, the kids are getting tested—especially in third and fourth grade, they're taking these tests that are high-stress, which comes to characterize most of their school day. So, after-school is a great opportunity for them to write without having to be so concerned about the structure. Just allowing themselves to write down what they want to write down, and share that with their teams and coaches. A lot of them join the program because they love soccer, and then discover something about themselves: They find that they really enjoy the writing as well."
That release, coupled with the carrot of getting to play soccer in a league with their teammates, can be a powerful motivator and directly affect the students' performance in the classroom.
"Soccer is a powerful tool to help kids concentrate throughout the day," Gomes says. "I've heard from several of coaches about how a child's behavior improved. Where before the season, they saw that child struggling a lot to pay attention—that behavior changed once they were able to remind that student that giving his or her best effort inside the classroom would translate to the soccer field. So, teachers can use the SCORES program throughout the school day."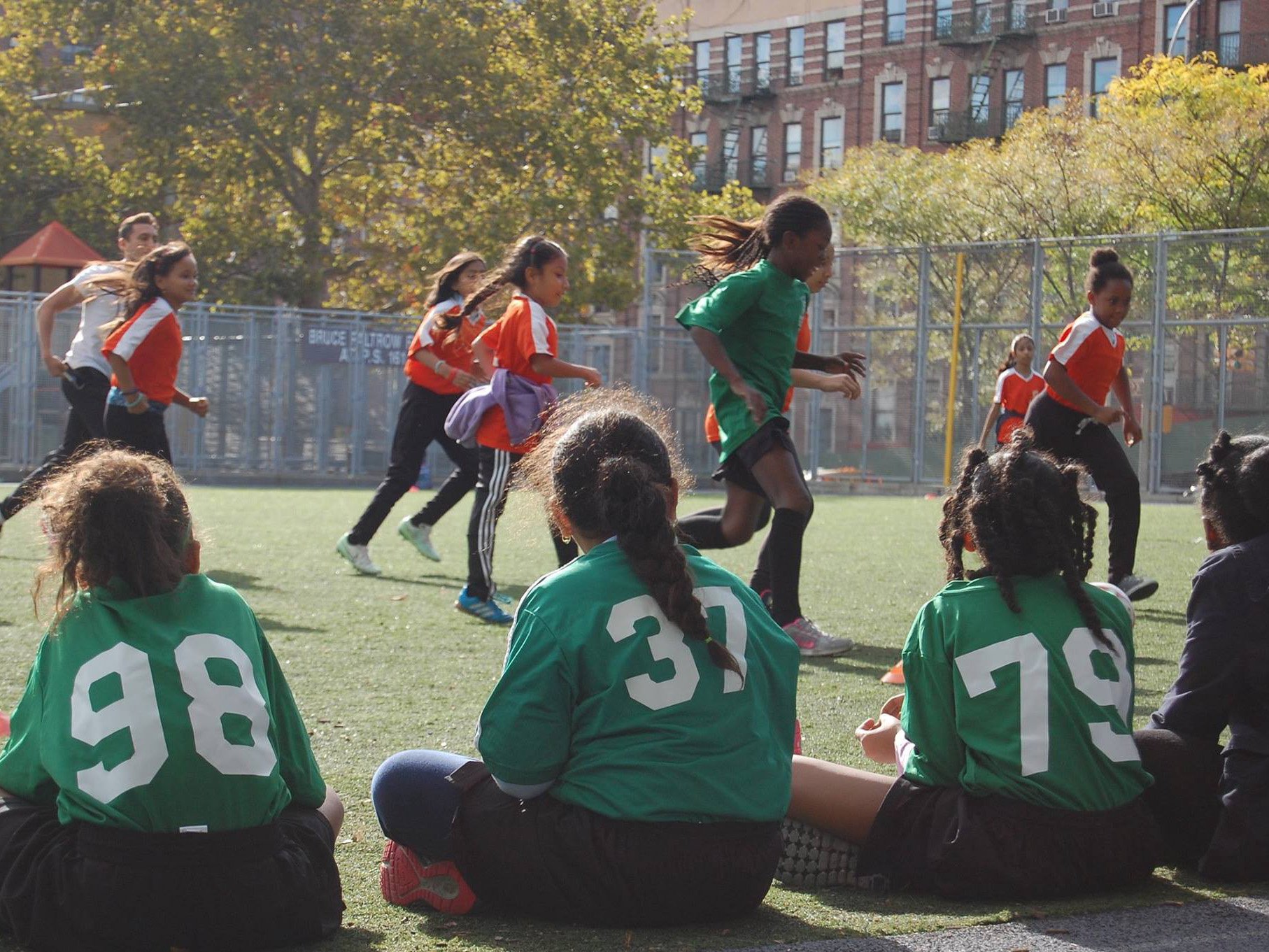 How does that soccer part of the program work? It's all about the network. "We have a SCORES league," explains Executive Director Shannon Schneeman.
"Ultimately, we'd love to model it after D.C. SCORES, since they have a very widespread, very popular SCORES league," says Schneeman. "We're much smaller—it's very local, it's a community soccer league [here in New York]. All the SCORES schools play each other. We do have some middle school teams that have joined our soccer league as an introduction to SCORES, and the ultimate goal is to bring them onboard with our full program—our school partners are real partners for us, so we really work hand in hand with our school partners to help the overall academic outcome for our students, and the overall experience."
"One of our very committed schools in Washington Heights travels 30 minutes on the subway every Friday, with 34 kids, to play on game days."

—Shannon Schneeman, Executive Director
So, what does the network look like? America SCORES New York is currently working with 12 public schools in the West Harlem and Washington Heights neighborhoods, with most of those programs taking on the full SCORES program. While field space in New York City is, of course, limited, the close relationship between SCORES and its partner schools means that they can collaborate with the schools to make sure the students have a safe space to play, often utilizing New York's public parks.
"We do run into challenges with schools that don't have fields next door, which applies to a lot of them," Schneeman says. "One of our very committed schools in Washington Heights travels 30 minutes on the subway every Friday, with 34 kids, to play on game days."
That's the reality of inner city New York, but the commitment on both sides—from both the schools and SCORES—helps to make the most of available resources. "Part of the agreement with the schools is that we will provide everything they'll need," Schneeman explains. "We provide stipends for the teachers that coach, we provide all equipment: Game-day equipment, practice equipment, writing supplies, service-project materials—so, that's one of my main jobs, to deliver funding for that side of the equation."
For the most part, each affiliate is in charge of its own funding. This means applying for grants, staging fundraising events, and working to develop further relationships within the region.
"[Bringing the same creativity to the field, as well as the writing] is our goal, and I think it comes down to the coaches being very intentional about it," Gomes says. "The key, in my opinion, is communication between the coaches—how much they're planning lessons together really goes a long way toward whether or not that is being achieved."
Communication. Collaboration. Creativity. When all three of these work together, the original vision of the program is realized. "It doesn't always happen perfectly, but that's what we're working to achieve at every one of our schools," says Gomes.
"Our focus is to create a positive, fun, engaging place where kids feel safe, and able to express themselves," Schneeman says, "whether it's at soccer practice or in the classroom."
Thanks very much to Shannon Schneeman and Zach Gomes for the interviews! Photos courtesy of America SCORES New York.