Leverage Your Data, Tell Your Story: UpMetrics Stories
By UpMetrics Staff
UpMetrics announces new Stories feature, allowing you to collect qualitative data to complement your quantitative dashboards, to enrich storytelling.
UpMetrics data tools for the philanthropic sector have always allowed you to collect and visualize your quantitative data. Now, through our Stories feature, you'll be able to add anecdotes, articles, testimonials, photos, and more alongside that data, and even associate those softer data points with specific indicators. Stories allow you to tie storylines to your goals in a tangible, transparent way.
Here's how it works.
There are two main ways to create Stories: You can add a new Story from the Stories tab, or create a Story from within the Goals dashboard by clicking into any Indicator.
Next, choose what kind of story you'd like to add: You can add a link from anywhere on the web, attach files, or simply create a text story by filling in a title and notes.
Then, choose one of your organization's indicators that best ties to your story—you'll be able to see that story within the indicators on your Goals dashboard, as well as in the Stories tab.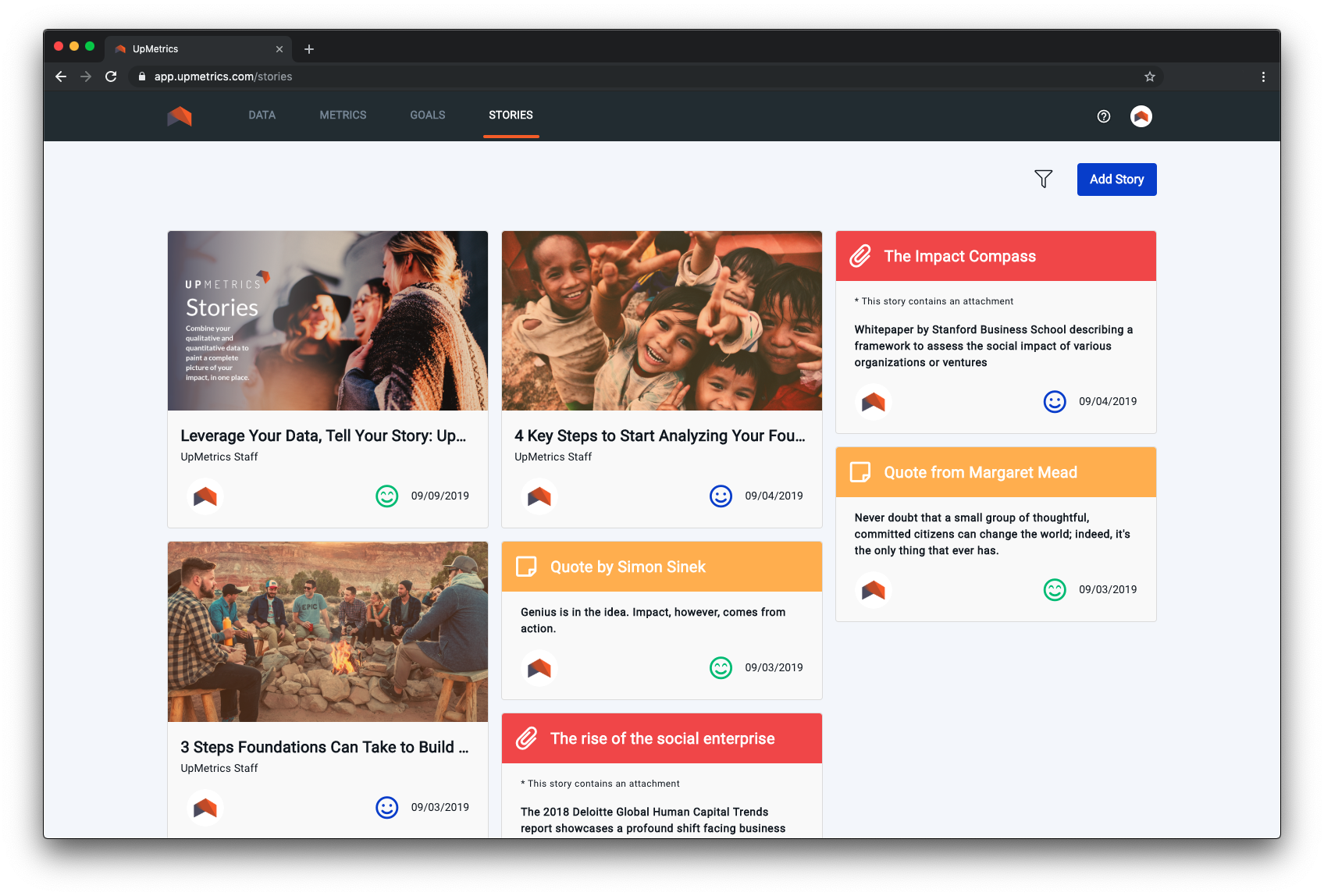 This allows you to:
(1) Connect testimonials and photos to quantitative data
(2) Share research about the challenge you are taking on to provide context to external stakeholders.
(3) Tie best practices to your Goals and Indicators, in order to show how the near-term outputs you are tracking are connected to the longer-term impact at the heart of your mission.
(4) Share ideas and insights more quickly, with the ability to tag & index for institutional knowledge.
Since anyone who has access to your organization can add Stories, the personal notes, photos, or even videos that people want to share, and which connect to your goals, will be captured alongside your quantitative data, giving you a complete view of your impact.
From time to time, you'll also see stories from the UpMetrics team in your Stories tab, as we publish articles about important updates, or organizations doing outstanding work in the philanthropic sector.
Learn more about how UpMetrics tools and services are helping organizations define, collect, and leverage their data to tell their stories, and drive greater impact.