A recent survey points to more opportunity for collaboration – what does that mean?
By Kim Lynes
In June of this year UpMetrics developed and distributed a collaboration-themed survey to over 1,000 foundations and nonprofits. Our intention was to understand if nonprofits and foundations had the same understanding of key areas of collaboration like key performance indicators, the capacity levels of nonprofits to deliver on reporting, and expectations around what a successful collaborative initiative looks like. As we as a sector look to effective collaboration more and more as a powerful tool that will support our ability to tackle challenges in our communities today, it is imperative that all stakeholders are approaching the partnership with the same expectations and goals in order to see the expected positive change.
57 staff members of nonprofits and foundations responded to the Survey to Baseline Collaboration, spanning a range of departments and seniority levels in philanthropy. We were excited to see a few areas where all parties agreed, including the importance of tracking qualitative data, collecting metrics throughout a program and having funders and grantees define the success of a program together. All three of these are areas that we have seen lead to amplified impact for UpMetrics clients.
Where the survey highlighted an obvious, and crucial, disconnect, is around the biggest indicators of the success of a program, they keys to a strong collaborative relationship, and the most significant opportunity that improved collaboration would bring. These are fundamental themes of any mutual partnership and it is essential that foundations and nonprofits have conversations around these items to get on the same page before launching into efforts.
Most notably, half of private and family foundations ranked trust in the grantee from the funder as the top item that is key to a strong collaborative relationship. While this item did receive the largest percentage of votes from nonprofits as well, it is more important to call out the two other areas that made up of half of all nonprofits answers and only 20% of foundations. Those are capacity support for grantees from the funder and information sharing from the funder to grantee. This is a clear indicator of a disconnect – foundations are doubling down on an element of a strong relationship and an area that is important for long-term effectiveness. Nonprofits have key areas that they need support today, and foundations may not realize those needs.
Read the entire report on the survey findings, Purposeful Collaboration is the Key to Drive Results, by filling out the form below. Enjoy the infographic of some of our results and feel free to share with colleagues!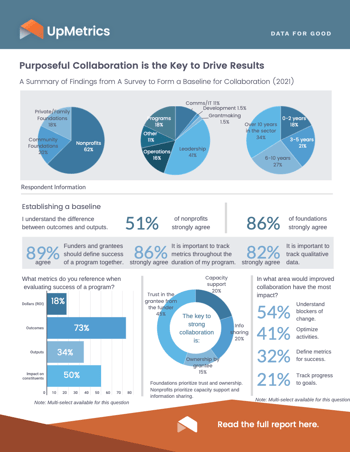 Click the image to download.
Still looking for more information that can guide your next steps in building a strategy around collaboration? Join our webinar September 21st.